Mr. Segei Mitnovetski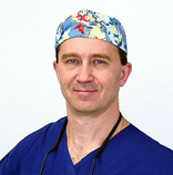 Mr. Segei Mitnovetski
Surgeon
Dr Sergei Mitnovetski is a Cardiothoracic Surgeon with an extensive experience gained at Monash Medical Centre, St. Vincent's, Austin, The Alfred and Royal Children's Hospitals (Melbourne, Australia), John Hunter Hospital (Newcastle, Australia), Bristol Heart Institute (Bristol Royal Infirmary, United Kingdom), Toronto General Hospital (Canada), The Townsville Hospital and Gold Coast University Hospital (Queensland, Australia).
Dr Mitnovetski performs cardiac and thoracic surgical operations and in the past he was heavily involved in transplantation surgery/ECMO support and congenital cardiac surgery.
Dr Mitnovetski also has an extensive experience in managing chest trauma.
He monitors and provides care to critically ill patients in Intensive Care Units as well as to the Ward patients on daily basis.
SPECIAL INTERESTS
Coronary artery bypass graft surgery, Aortic mitral and tricuspid valve surgery, Aortic root replacement, Excision of atrial myxoma, aortic dissection and aneurysm, Repair of basic adult congenital cardiac defects, VATS lung wedge resections, biopsies, pleurodesis and decortication.
REGISTRATION NUMBERS AND PROFESSIONAL MEMBERSHIPS
AHPRA : MED0001207231 Fellow of The Royal Australasian College of Surgeons (Cardiothoracic Surgery) Member of Australian and New Zealand Society of Cardiac and Thoracic Surgeons.
HOSPITAL AFFILIATIONS
The Valley Private Hospital (Mulgrave, VIC)
Knox Private Hospital (Wantirna, VIC)
Cabrini Malvern (Malvern, VIC)
St John of God Berwick Hospital (Berwick, VIC)
LANGUAGES SPOKEN (OTHER THAN ENGLISH)
Russian, Ukrainian