Local Care by Local Specialists
Stress free treatment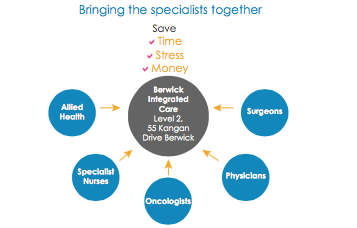 Being sick can be stressful and travelling to appointments can be difficult. Berwick Integrated Care's mission is to minimise the number of times and places you need to visit in order to get comprehensive care for your particular condition. We bring all the experts together in one place and at one time to make your treatment easier so that you can relax and focus on recovery.
Berwick Integrated Care is conveniently located at Level 2, 55 Kangan Drive, Berwick. Onsite parking is available, both outdoor and undercover, at a small fee with direct access to the clinic via stairs or elevators. We are also located close to the Berwick Railway Station and bus stops. The clinic has 7 consulting rooms which will enable multiple practitioners to be available for you to see at one visit. A treatment room suitable for minor operations is also in the suite.
We look forward to meeting you and helping you on your journey to recovery.