Dr. Cameron McLaren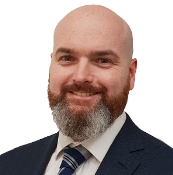 Dr. Cameron McLaren
Medical Oncologist
I have lived in the Berwick area for around eight years now, and am looking forward to serving the community for many more to come. I am a general Medical Oncologist with particular interest in:
Lung Cancers
Gastrointestinal Cancers (Colorectal, Pancreatic, and Hepatobiliary)
Genitourinary Cancers (Prostate, Renal, and Bladder)
Breast Cancers
I completed most of my training at MonashHealth, and was the Chief Resident in 2015. I undertook advanced training in Oncology at Frankston Hospital, MonashHealth, and Peter MacCallum Cancer Centre. I am published in the areas of pancreatic cancer, and have presented at international conferences in the field of exercise and cancer. I also practise perioperative general medicine, and value communication skills in healthcare and early identification and symptom control in advanced cancer.
I see my communication skills as my greatest strength and believe in clear communication with patients, to front-line healthcare providers and to referrers. I see each consult as an opportunity to educate the patient about their disease to equip them with the knowledge to give them confidence in the treatment decisions we make together. More about my specific areas of interest can be found on my website at www.directionhealth.com.au.