Dr. Dan Seneviratne Epa
Nephrologist and Perioperative Medicine Physician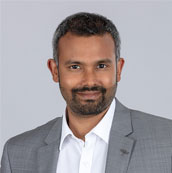 Dr. Dan Seneviratne Epa
Dr Dan Seneviratne Epa obtained his medical degree in 2009 with First Class Honours and a Distinction in Clinical Medicine. He undertook physician training through the Royal Melbourne Hospital and Melbourne's Eastern, Northern and Peninsula Health Networks. He is a Fellow of the Royal Australasian College of Physicians and has dual specialisations in Nephrology and General/ Acute Care Medicine.
Dan has public hospital appointments at Eastern and Northern Health, along with an honorary specialist position at Monash Health. He has affiliations with several private hospitals including St John of God Hospital Berwick, Knox Private Hospital Wantirna and Epworth Eastern Hospital Box Hill.
Dan has obtained Clinical Research experience through work undertaken at the Oxford Centre for Diabetes, Endocrinology and Metabolism in the United Kingdom. He participates regularly in teaching. He has undertaken meaningful quality improvement activities in fields such as environmentally sustainable dialysis and patient empowerment in Chronic Kidney Disease. His work has been presented at several national and international conferences.
Dan places great emphasis on providing holistic care to his patients. He takes the time to communicate effectively, empowering patients to be active partners in their healthcare journey.
Dan and his wife live in the South-Eastern suburbs with their two kids. Outside work, he enjoys cricket and road trips with his family.
Main Contact Details
For all appointments and inquiries please contact Dr Seneviratne's office on:
Phone: 03 8548 0337
Fax: 03 9957 2229
Email: admin@drdse.com.au