Mr. Foong Loh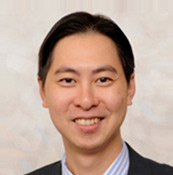 Mr. Foong Loh
Breast and General Surgeon
Foong Loh is a Consultant Breast and General Surgeon. Mr. Loh graduated from the University of New South Wales (UNSW) with Bachelor of Science (Medicine), Bachelor of Medicine and Bachelor of Surgery. He has also completed a post-graduate higher degree, Master of Surgery, from the University of Sydney. He completed General Surgical training at Royal Prince Alfred Hospital in Sydney culminating in FRACS.
Mr. Loh pursued extensive sub-specialty training in Breast and Oncoplastic Breast Surgery locally and internationally. He commenced breast fellowship training initially at Royal Prince Alfred Hospital, Sydney. He then dedicated one year as a Rural Surgical Fellow in Wagga Wagga Base Hospital, NSW which has a very busy general surgical unit, performing both breast and general surgical procedures. Following this, he completed an Oncoplastic Breast Fellowship at Edinburgh Breast Unit, United Kingdom, the largest breast unit in the UK. He has been involved with research during his fellowships in Edinburgh and RPA resulting in publications in international journals. He specialises in both benign and malignant diseases of the breast.
He also performs general surgical procedures including vascular access ports for patients requiring chemotherapy. Mr. Loh has public appointments with Monash Health. His private appointments are with St. John of God.
Main Contact Details
For all appointments and inquiries please contact Mr Loh's office on:
Phone: 03 9707 3664
Fax: 03 9769 5328
Email: csg@caseysurgical.com.au