Mr. Niruben Rajasagaram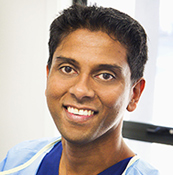 Mr. Niruben Rajasagaram
Consultant Bariatric, Oesophagogastric & General Surgeon
Mr. Niruben Rajasagaram is a Consultant Bariatric, Oesophagogastric and General Surgeon. He specialises in the stomach and oesophagus. Niruben has studied and worked extensively to successfully perform weight loss (gastric sleeve, gastric bypass, mini gastric bypass, revision bariatric surgery) and metabolic surgery for patients requiring this treatment. He also specialises in upper gastrointestinal and advanced interventional endoscopy.
Niruben graduated from the Royal College of Surgeons Ireland in 2001 and holds a bachelor degree in Medicine, Surgery and Obstetrics. He obtained his Membership to the Royal College of Surgeons Ireland (MRCS) in 2004. This was followed by advanced surgical training in general surgery at St Vincent's Hospital, Melbourne; becoming a Fellow of the Royal Australian College of Surgeons in 2011.
His keen interest in the field of upper gastrointestinal and weight loss surgery saw Niruben complete an additional four years of specialist training. Dr Rajasagaram trained in leading hospitals throughout Australia to perfect his techniques in oesophagogastric, bariatric (weight loss) and general surgery.
During this time, Dr Rajasagaram also completed the Australian and New Zealand Gastric Oesophageal Association (ANZGOSA) Fellowship program at the Alfred and St Vincent's Hospitals in Melbourne. He is a reviewer for the Obesity Surgery Journal and is an Adjunct Lecturer at Monash University. He previously held public appointments at the Alfred and Monash Health. He now purely performs surgery in the private hospital setting.
Main Contact Details
For all appointments and inquiries please contact Mr Rajasagaram's office on:
Phone: 03 8548 0318
Fax: 03 8813 9090
Email: admin@vsscentre.com.au