Ms. Corinne Ooi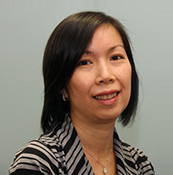 Ms. Corinne Ooi
Breast and General Surgeon
Ms. Corinne Ooi is a graduate from Monash University and trained at the Alfred Hospital and Monash Health. After being admitted as a Fellow of the Royal Australasian College of Surgeons, she went on to sub-specialize in breast surgery. Corinne spent 12 months as a Fellow in a specialized breast unit in Waikato Hospital, New Zealand.
Corinne has an interest in both benign breast disease as well as breast cancer and has had further training in the field on oncoplastic surgery. She is committed to breast cancer research and is involved in undergraduate and postgraduate medical teaching.
Corinne works closely with a team of dedicated breast reconstructive plastic surgeons and is part of a highly skilled multidisciplinary team of health professionals to ensure no aspect of patient care is missed.
She provides a personalized service to meet individual patient needs and understands the importance of good communication with the patients and their general practitioners. She is committed to a multidisciplinary approach to patient care to ensure they receive the best management and treatment plan. Corinne endeavours to offer all new patients an appointment within a fortnight and will see all urgent referrals within 24 hours.
Professional Associations
Fellow of the Royal Australasian College of Surgeons
Foundation Member of BreastSurgANZ
Australasian Society for Breast Diseases
The Australia & New Zealand Breast Cancer Trials Group
General Surgeons, Australia
Adjunct Senior Lecturer, Monash University
Appointments
Monash Cancer Centre
Monash Breastscreen
The Lorna Sisley Monash Breast Clinic
The Valley Breast Service
Cabrini Brightways